Category Of Oil Crops:Peanut,Groundnuts,Rapeseed,Sunflower,Oil Press
| | | |
| --- | --- | --- |
| | | |
| | | |
| | | |
| | | |
| | | |
Rice bran
Rice bran is the by-product of grain processing.100kg unpolished rice could produce 5 to 8kg rice bran whose oil contain is 14% to 24%. Rice ran is know as" nutritional oil" for it can obviously reduce blood serum cholesterol. As rice bran contains active lipolytic enzyme that could rot rice bran, which will directly effect oil quality, pretreatment to passivate the activity of lipolytic enzyme is needed before making oil from rice bran.
Camellia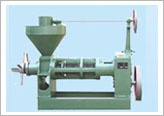 Camellia is one of the special local oil products in south China. It is also found in the countries as India, Vietnam, Indonesia, ect. Camellia has a shell outside and 50% to 72% of the seed is made up of kernel. The whole seed contains 30% to 40% of oil, while the kernel contains 40% to 60% of oil and 8% to 9% of protein. As it don't belong to dry oil and contains plenty of unsaturated fatty acid, canelia could be used as decent medicine as well as nutritional edible oil.
As a plant native to Asia, peanut is one important hulled, soft high- oil fule. With kernel-containing rate of 65% to 75%, and oil-containing rate of the kernel 40% to 51%, protein-containing rate of kernel 25% to 31%, it's one of the most important sources of vegetable oil and protein.
Tung oil seed
Tung oil tree abound in China, and it belongs to woody low branching oil plant. Tung oil seed contains 51% to 71% of kernel with oil content of 50%-62%. the oil and protein content od Tung seed is 32%-41.9% and 20.5%-27.7% separately. Tung acid which is contained in Tong oil belongs to dry oil, which is inedible because of the venomousness. Tung oil is our country's special local and traditional exported product, which is widely used in industry.
Sapium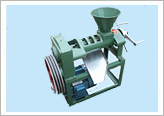 Sapium is a special local product in China. Two kind of oil come out adter processing of sapium: sapium fat on the exterior layer(also called skin oil) and interior catalpa fat(also called green oil). the mixture of the two is called wood oil. Sapium seed contains 35%-43% of wax in which oil content could reach 70%-75% and kernel 28%-33% in which the oil content is 58%-62%. On the whole the seed contains 40%-53% of oil. Sapium fat and catalpa fat both belong
As the only one kind of high-oil fule that could be planted all over the world, rapeseed is also the main oil-bearing and honey- producing plant in China. The seed is the raw material of Baptist fats and bear two crops a year in China. It's planted all over China ranks the first all over the world for its high oil content of 33% to 48%, its planting area accounts for 40% of the total, and its output 30%.
Model 130 oil press is the latest products based on Anyang independent research and development. This oil presses remains the virtues of the traditional oil press, reduces the weakness, adds the automatic heater, one hot extruding for all oil, increases the oil output rate, capable to prepressing for submerging oil workshops.