What's the Main Filtering Method in Edible Oil Processing Plant?

Set Up Your Own Small Edible Oil Processing Plant
What is the main filtering method in edible oil processing plant for removing impurities in crude vegetable seed oil? Generally, after the crude oil is extracted from vegetable seeds, refinery is needed before they can be eaten. If you are planning to invest in edible oil manufacturing industry, you are recommended to read about the cost of setting up edible oil plant.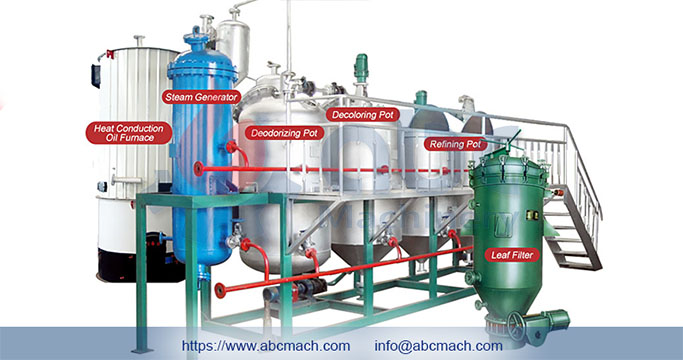 Mini Edible Oil Refining Unit for SALE
Edible Oil Refining Process: The crude oil passes through the oil pipeline into the refining equipment for impurity removal, degumming, decolorization, deodorization and other processes.
Impurity removal belongs to the first step of refining process. At present, the impurity removal methods in the edible oil production industry are relatively mature, and there are three main oil filtration methods commonly used for impurity removal in edible oil processing plant. (Here is an article about what's the impurites in crude oil?)
Three Main Oil Filtering Method in Edible Oil Refinery
That is using the gravity of the impurity itself, the suspended impurities are precipitated by standing still under the action of physical gravity. This method is relatively simple, but it is time-consuming and inefficient.
Centrifugal oil filtration method.
That is using the centrifugal force under the high-speed rotation of the centrifuge separates the suspended impurities, colloids and oil. This method is featured of short processing time, good effect and relatively high equipment cost.
Plate frame or belt oil filtration method.
Through the plate frame or belt filter press, under the effect of super extrusion pressure, the impurities in the oil are separated by the press cloth. This oil filtering method is easy to operate, time-consuming and effective, and is commonly used by most grease equipment manufacturers.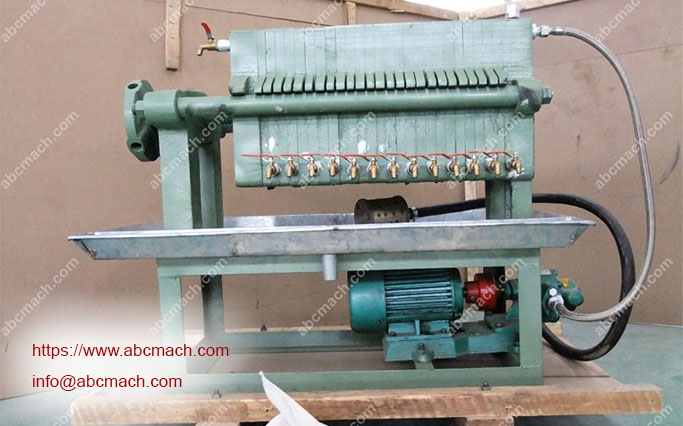 Small Edible Oil Filter Press Mahine for SALE
There are many factors which can affect the filtering method and equipment selection when building your own edible oil refinery plant. Besides, the quality of oil pressing machine can also affect the refining process. As a reliable oil processing machine manufacturer and supplier, we can offer hemp seed oil expeller for processing hemp seed oil, black seed oil press machine for making oil from black seed, castor oil machine for producing expeller pressed castor oil, coconut oil press machine for extract oil from fresh coconut and copra, palm kernel oil extraction machine for manuacturing palm oil from palm kernel. Contact us now to get detailed product catalogue and quotation list! You are also welcome to get in touch with us whenever you need help on edible oil processing busienss plan.