The YZS-120
sunflower oil press equipment
is an advanced screw oil press, the structure is simple, the operation is easy and convenient, wide suitability and continuous operation, high productivity and high oil output rate. What's more, this type sunflower oil press equipment is suitable for cold pressing or hot pressing any oil seeds and oil plant.
Sunflower Oil Press Equipment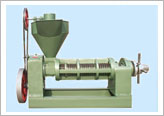 What is Sunflower Oil?
Sunflower oil is the non-volatile oil expressed from sunflower (Helianthus annuus) seeds. Sunflower oil is commonly used in food as a frying oil, and in cosmetic formulations as an emollient. Sunflower oil was first industrially produced in 1835 in the Russian Empire.
Uses of Sunflower Oil
Sunflower oil is widely used in the culinary and food preparation world. It works well as a frying oil, and is known to be much easier on the human body that other frying oils. The flavor is often described as light and nutty. In most applications which olive oil can be used in cooking, sunflower oil is also useful. Aside from its place in the fried food world, sunflower oil is brilliant at perking up a salad as a dressing or added to a sauce.
Some of the more unexpected and interesting uses of this remarkable oil is in the automotive industry. Tires are being made that include sunflower oil to help with traction for driving in certain environments. This is because when sunflower oil is added to tires, it helps the rubber hold its flexibility even in harsh sub-zero temperatures.
Motor vehicles have benefited from the use of this oil as well. Aside from being much better for the environment, and being a renewable source of energy, it burns cleanly and is less harsh on engines than petroleum oils.
Email us whenever you feel interested in our sunflower oil press equipment and you will never regret doing so!