This model of hemp seed oil press can also suitable for many other types of seeds and nuts, for example it can press castor seeds, sunflower seeds, cashew, camellia, walnut, almonds, sesame seeds, peanut, soybean, rapeseed and pumpkin seeds, pepper seeds, corn germ, chili seeds, cottonseed, til seed, etc. We also offer other hemp oil production facility, welcome to get contact with us!

Hemp Oil Production Facility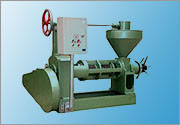 Features of the Hemp Seed Oil Press
* Stainless steel used on the surface to reach the standard of food hygiene.
* Cold lower temperature keep in pressing technology.
* Durable, for 1 year free after-sales service. Include replace the parts costs.
* A double helix oil press equals two oil press, can obtain double benefit
* High quality parts, stable oil pressing effect, saving the maintenance cost.
* Military industrial manufacturing, quality chrome materials, quality trustworthy.


Specifications of the YZS-100 Hemp Seed Oil Press

* Weight: 480kg
* Size: 1860 x 550 x 695mm
* Power: 3-phase, 7.5Kw11KW, 1440rpm
* Capacity: 4-5 metric tons per 24 hours

Thanks for visiting our websie, anytime you feel interested in our hemp seed oil press, please feel free to contact us just in the following form, we are always at your service!